UNESCO praised UAE's pioneering efforts in eliminating doping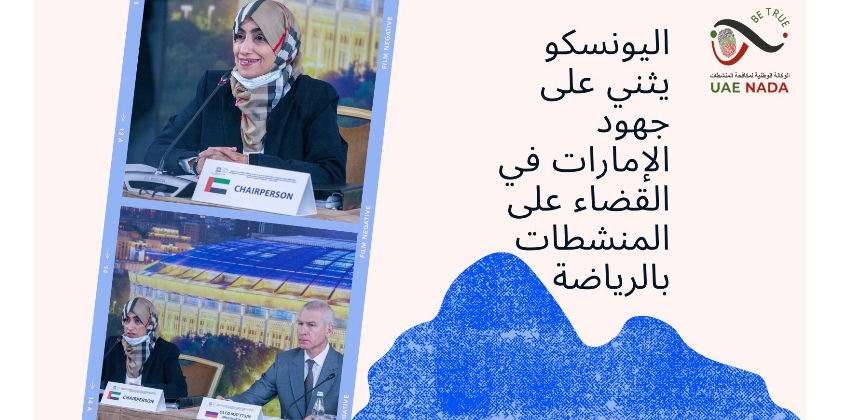 June 23, 2021
UNESCO Assistant Director-General for Social and Humanitarian Sciences Gabriela Ramos praised the UAE's pioneering efforts in eliminating doping in sport, through Dr Reema Alhosani's chairman of the UNESCO Sports Doping Support Fund Committee.

Gabriela Ramos said at the fund's third meeting in Russia, chaired by Dr. Reema Alhosani in attendance, that the UAE is making pioneering efforts to support the Fund by supporting projects and initiatives, and that this has resulted in the entry of the private sector as a key partner in supporting the Fund's projects, for the first time since Reema Alhosani took over as head of the Fund.

Dr. Reema Alhosani, president of the UAE National Anti-Doping Agency, chaired the meeting in Russia, in the presence of Russian Sports Minister Oleg Matetkin, Chief Executive Officer of the Cop Convention on Anti-Doping in Sport Marcos Diaz, and members of the Commission from Russia, Barbados, Zambia, India and Italy.

Alhosani said that during the meeting, the initiative of private sector participation in supporting the fund's initiative was adopted, and that The Russian sports company Forward pledged to give 20,000 euros a year to support the projects, and that this step will open the way for the private sector to support the Fund financially, as one of the initiatives established during the current period of the UAE presidency of the Fund.

Dr. Reema Alhosani said that the meeting witnessed the study of advanced projects from various countries parties, and discussed the importance of building basic rules as well as setting standards for the provision of projects for support, as well as the meeting also witnessed the preparation of the meeting of the Conference of States Parties to be held in France next October.
Back to News